Show Highlights
Oakey Show Society 2004 ~ Mr Ken Stout (QLD)
Runner Up Best In Group
Show Critiques
American Staffordshire Terrier Club of Qld ~ 17th October, 2010 ~ Mr WF Potter II (USA)
2nd Veteran Dog
Nicely made dog, angulation showing his age, lost some of his musculature, good head, deep throughout.
---
American Staffordshire Terrier Club of Qld ~ 18th October, 2009 ~ Mr A Burt (VIC)
2nd Veteran Dog
Taller dog than the winner, but a pleasing head type, though the ears tended to fly.  Didn't move as well as the winner, and the topline was not as typical as the winner.
---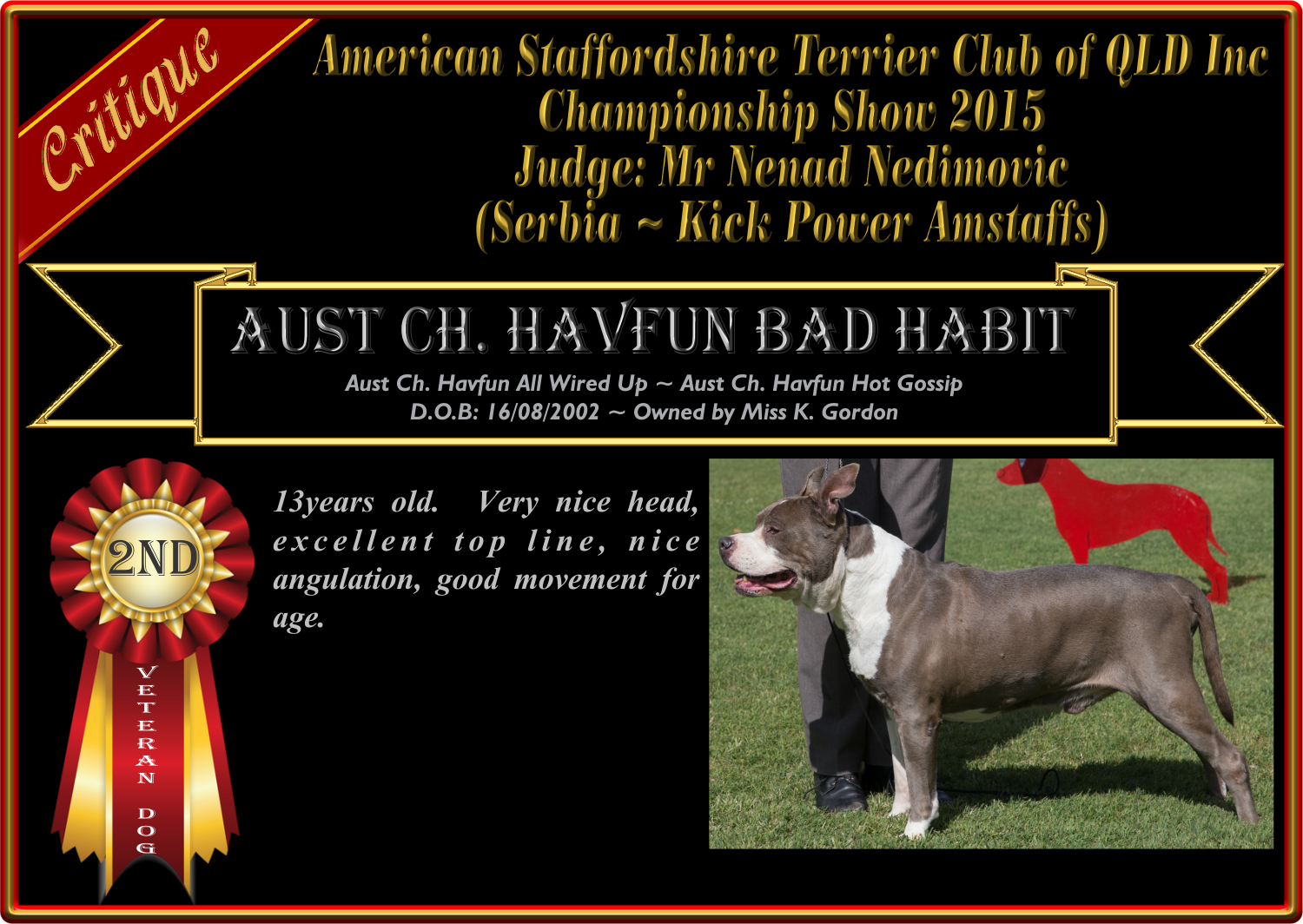 Pedigree
Aust Ch.

Havfun All Wired Up

Winyahart Black Rock

 

Aust Ch. Amtex Bald Eagle 

Am Ch. Pacific's Distant Thunder 

Am/ Can Ch. Pacifics Hope and Glory

Am Ch. Classic Dreams Flamina

Aust Ch. Whitenight Mississippi 

Araganu Billy Blue

Araganu Leisl 

Esmeralda Vom Rendez-Vous Berg (Imp GER)

Tough Guys Anger 

Int Ch. Skrams Chasqui Mountain Lion 

Rosenauers Cherassade

Nelly Vom Hungener 

Felix Vom Hungener 

Piels Aprentice 

Lyntiki Without A Doubt 

Lyntiki Paleface Playboy 

Am Ch. Pacifics Hot Pursuit (Imp USA)

Am/ Can Ch. Pacifics Hope and Glory

 

Am Ch. Pacifics Northern Exposure 

Aust Ch. Amtex Miss Dixie 

Am Ch. Pacific's Distant Thunder 

 

Aust Ch. Whitenight Mississippi  

Lyntiki Miss Arrizona 

Am Ch. Pacifics Hot Pursuit (Imp USA) 

Am/ Can Ch. Pacifics Hope and Glory

 

Am Ch. Pacifics Northern Exposure

Greyhawk Tilly

 

Aust Ch. Araganu Billys Boy 

Aust Ch. Bluesteel Annie

Aust Ch.

Havfun Hot Gossip

Aust Ch.

Willynwood Midnightxpress (Imp USA)

Am Ch. Chasqui White Rock Indiana 

Dutch Ch. Chasqui Red Raging Bull 

Am Ch. Evergreens Raven 

Am Ch. Skrams White Rock Pearl 

Dutch Ch. Skrams Chasqui Black Sheila 

Am Ch. Logues White Rock Ox Bomber 

Am Ch. Skrams White Rock Pearl 

Willynwood Perfectly Happy 

Willynwood Harley 

 Int Ch. Willynwood Redneck

Willynwood Blue Lady

Am Ch. Willynwood Dana 

 Willynwood Muddy Buddy

Willynwood Pandora 

Lyntiki Blue Denim 

Am Ch. Pacifics Hot Pursuit (Imp USA) 

Am Ch. Pacifics Hope and Glory 

Am Ch. Woods EZ Challenger Chance 

Woods Glory of the Woods 

Am Ch. Pacifics Northern Exposure 

Am Ch. White Rock Perry The Fridge 

Am Ch. White Rock Mist O Joes Creek 

Aust Ch. Lyntiki Sweet Georgia 

Aust Ch. Bluesteel Lucifer (AI) 

Int Ch. Willynwood Redneck 

Aust Ch. Araganu Blue Diamond 

 Greyhawk Tilly

Aust Ch. Araganu Billys Boy 

 Aust Ch. Bluesteel Annie