2018 Mating
Rizenstar Never Let Me Go (AI) X Aust Ch. Staffwild Super Overdrive
Colours expected: Red, Black, Pied, Blue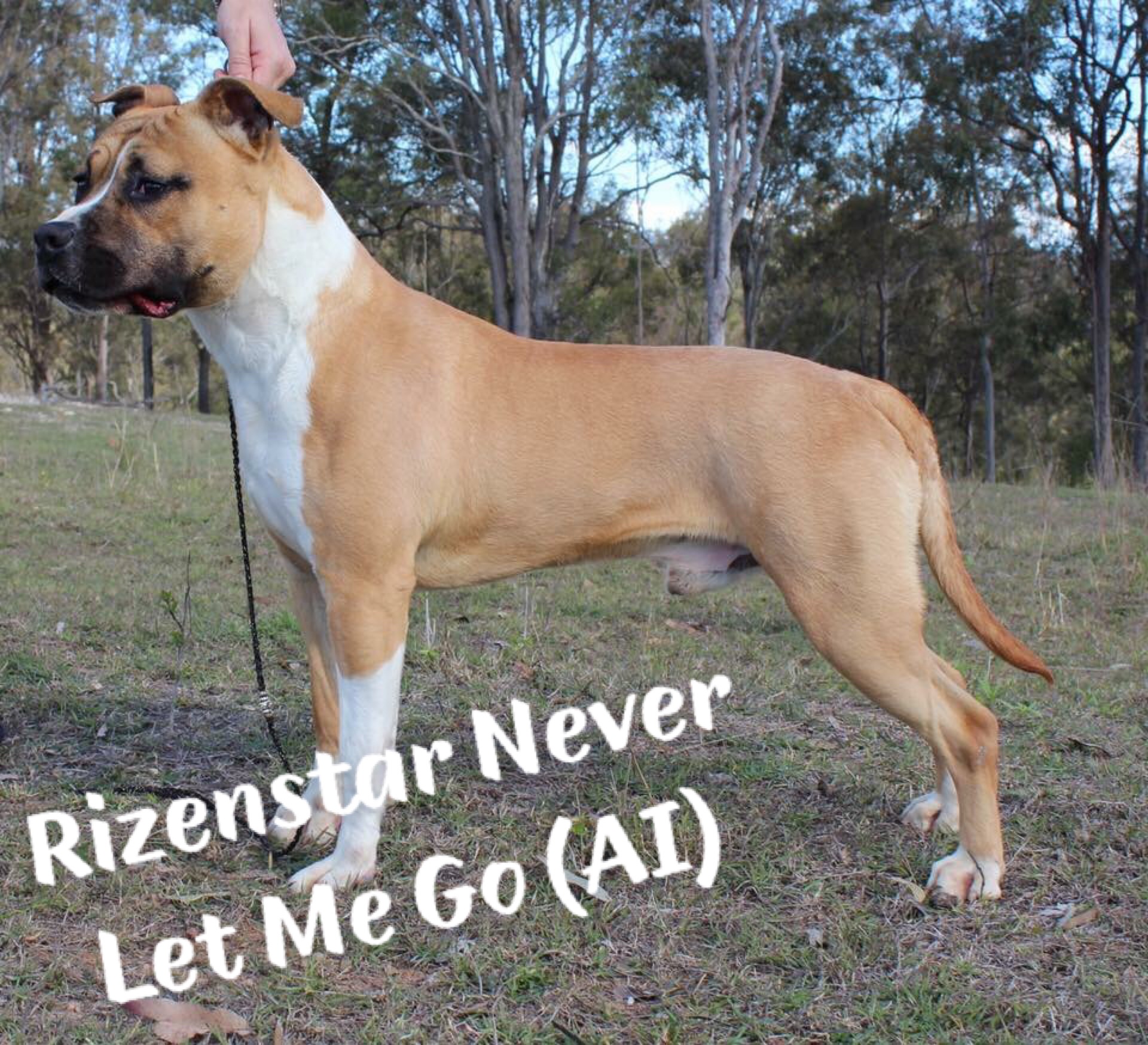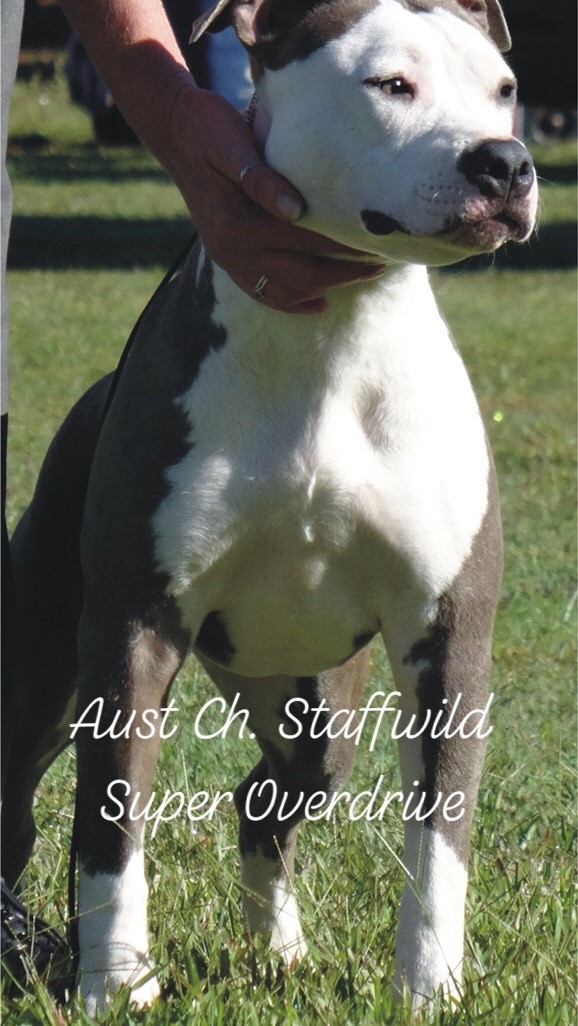 Register your interest in our litters by filling out our Puppy Interest Form
All Staffwild pups are rehomed with:
*  ANKC Pedigree Papers
*  DNA Parentage Certificate
*  Vet Checked
*  Vaccinations (1st done by us, 2nd and 3rd done by your vet, paid for by Staffwild)
*  Microchipped
*  Sample of the puppies diet  (please note interstate owners this is not available due to being frozen or fresh food)
*  Sample of the treats we feed our dogs
*  Discounted Food for the life of your Staffwild dog (If you purchase pet food from us)
*  12 months supply of Advocate
*  Desexing for pet puppies (done by your vet, paid for by Staffwild)
*  Membership to the Breed Club in your state
*  Membership to the Canine Control in your state
*  A puppy information Book (containing health certs for parents and history)
*  Bowl, Lead and Collar, Toys, Treats, etc
*  A 5 Generation Pedigree
*  6 weeks free Insurance *
---
Our preference for homes for our pups will always be a loving family pet home, we are not against people who are interested in Showing and/or Breeding, however we do prefer not to place our pups into a breeding home.  If you are wanting to compete in dog sports with your pup, let us know, we do have a incentive program for those owners who want to compete in Conformation, Obedience, Agility etc.
All Sire and Dam's used by Staffwild will be tested for Ataxia, Hip/ Elbow Scored, Cardiac Tested, Eye Tested, Thyroid tested & DNA Profiled.
Staffwild Kennels place all pups into a co-ownership agreement.  Pups will remain in the co-ownership until they are desexed.  We do not ask for a litter from your pup and never will, however in regards to the males, we do not expect to use your pup at any stage, but if we do, we will happily pay $1000.00 (*LPG) stud fee to you. Health testing costs for your male will be paid for by us, if we choose to use your boy, however if you stud him out further then half of the health testing costs will be paid by yourselves either at the time of testing or reimbursed at a later date when he is studded out again. 
Once your pup is desexed the pedigree papers will be transferred into your name solely.  We will pay for the desexing at any age, at any time.  If you have a bitch and she contract Pyometra, we will pay the price of a standard desexing, any expense over this will be your responsibility.  
Anytime you wish to use your pup for breeding purposes, you will need to consult with us.  We require all health testing (Hip/Elbows, Ataxia, Cardiac, Eyes, Thyroid and DNA Profiling) to be completed on both dogs with good results as well as both your dog and the prospective partner must both be good examples of the breed temperament and conformation wise.
Staffwild does not guarantee our pups are going to be great showing or breeding prospects, we do guarantee that you are purchasing a pup from health tested parents that will be a great family pet if raised correctly.
*LPG = Live pup guarantee constitutes 2 living pups in a litter.
PLEASE NOTE: Pups will not be sold on Main Register to just anyone, if you are interested in showing or breeding please contact us with more information before requesting a main register pup.  We do not believe in once the pup is sold, the pup has nothing more to do with us.  All pups sold by Staffwild are the responsibility of ours for their lifetime.  We like to keep in contact with all new owners and are available 24/7 to help if you have questions or problems.  Pups are welcome to stay with us while you are on holidays etc.  If you don't want to talk to the breeder ever again after purchasing please do not contact us for a pup!
*Insurance Plan
All pups from Staffwild will have 6 weeks insurance from the day you pick your puppy up.  This covers:
Up to $3000 Vet Fees (Not including vaccinations)
Up to $1500 Death From Illness
Up to $1500 Death From Injury
Up to $400 Advertising & Reward if your dog is lost
Up to $1500 Theft & Straying (If you pup is not found).
---
Main Register

& Limited Register

puppy owners will be offered the following cash rebates on their Staffwild puppy obtaining the following titles with the ANKC or revelent Kennel Association in their country.   Photocopy of the registration papers with the new title must be forwarded to Staffwild Kennels.

Australian Champion: $50 

Australian Grand Champion : $200

Australian Supreme Champion: $350 

Australian Neuter Champion : $100

Companion Dog : $50

Companion Dog Excellance : $100

Utility Dog : $150

Obedience Champion : $200

Agility Dog : $50

Agility Dog Excellence : $100

Agility Dog Master : $150

Jumping Dog : $50

Jumping Dog Excellence : $100

Jumping Dog Master : $150

Tracking Dog : $50

Tracking Dog Excellence : $100

Coursing Ability : $50

Coursing Ability Advanced : $100

Cousing Ability Excellence : $150

CAX2, CAX3 and so on : $50 each number

Working Weight Pull Dog : $50

Working Weight Pull Dog Excellence : $100

Endurance Title : $50

Obtain 3 or more individual titles : $250

(ontop of individual titles rebates) eg. CD, AD, JD

Above is not a complete list of all sporting events available within the ANKC for your dog to title in, if you are participating in a different event, we will recognise those ANKC titles for that event.
The breeder will do regular check ups on the health and well being of the puppy.  Any puppy found to be neglected or mistreated will be recovered by the breeder and the proper authorities will be notified.
Limited Register information
*Part 3 - Registration of Dogs
34. Dogs which are Registered in the Limited Register are eligible to participate in Obedience Trials, Agility Trials, Field Trials, Endurance Tests, Earth Dog Tests or Tracking Trials, including Sweepstakes associated wth such events, but are not eligible to enter a Conformation Show, or to be used in Breeding.
All pups are sold on the Limited Register, unless by prior agreement by Staffwild representatives.